Forest School provides a unique opportunity to learn through practical activities, in an exhilarating environment that is totally removed from the traditional classroom setting.
Originating in Scandinavia, Forest School is a program of learning based on the children's interests, allowing them to develop skills throughout the term. Children are afforded the opportunity to explore the environment, whilst self-assessing and taking risks.
Forest School supports Early Years Curriculum, children make decisions and the environment stimulates problem-solving and fosters creativity. The activities at Forest School can lead to increased future academic performance and concentration, and lay the foundation for lifelong success. The benefits apply to students with additional learning needs, and can help to mitigate the symptoms of ADHD and ADD.
Furthermore, Forest School can be attributed to advanced motor skills, positive play behaviours and good mental health and Well-Being. The benefits stretch beyond the forest: research indicates that students that are engaged in learning within natural environments see increased attainment across reading, Mathematics and Science. Furthermore, students and teachers reported increased overall school engagement. The natural environment can encourage a desire to learn, and witnesses a positive link between learning and motivation at school.
---
The Setting
We are fortunate to have our own forest school area set within the 96 acres which make up the School site.
Students are afforded the opportunity to learn outdoor skills in the most natural forest environment, amongst both mature trees and saplings.
There is a basecamp, which features two 'fire circles' surrounded by tree stumps for the class to sit on, along with storage for the wide variety of tools and implements needed by students on a day-to-day basis. Throughout the woodland there is clear evidence of the girls' craftsmanship, as they contribute to the natural environment; building shelters from raw materials gifted to them by the forest.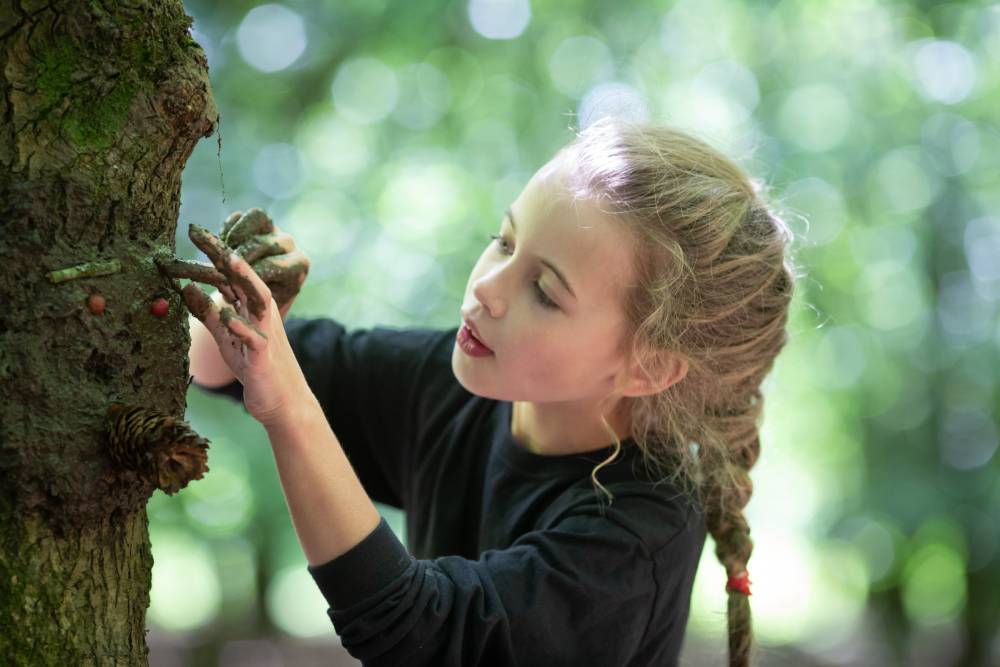 Typical Activities
Children in Reception to Year 6 participate in Forest School every week. Below are just a handful of activities they participate in, varying in degrees of difficulty as they get older:
Use tools and chisels to carve wood and make bird and bug houses
Making insect hotels, animal habitats and bird cake during the winter months
How to light a fire safely and how to make a long-lasting fire
Building shelter from woodland materials to keep the class protected from the elements
Alongside practical activities the students also get to enjoy plenty of delicious treats in the Forest including hot chocolate and smores, homemade elderflower cordial and even freshly made popcorn.
Throughout their time in Forest School, the students enhance their understanding of the natural world:
Gain awareness of environmental issues and the impact on woodland and animals
Learn to identify trees and leaves
Understand the seasonal changes in the woods
Conducting bug hunts
Forest Days
For students from Year 2 upwards, they have the opportunity to spend a whole day in Forest School, working in small groups and putting into practice all they have learnt during their weekly lessons. They use natural resources to create art, build shelter, and use their fire skills to prepare and cook their lunch. It's a brilliant opportunity for the girls to showcase their leadership and teamwork skills.
Year 3 students also have the unique opportunity to stay overnight for their Forest School sleepover, and in recent Years departing Year 13 students have relished returning to Forest School as part of their final experiences before leaving Pipers.
Flickr album: Forest School
|
Height: auto
|
Theme: Justified | Skin: Default Skin